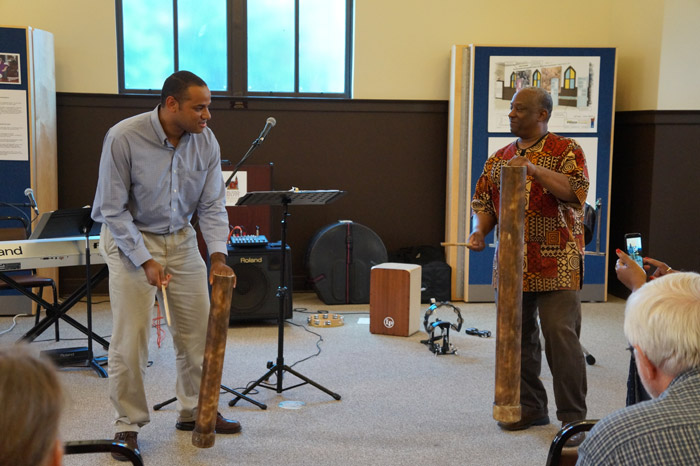 By Darlene Copp
August 1, 2014
Recent Events
Burkhead & Friends Perform at Burns-Belfry
Oxford's first Fringe Festival brought percussionist Ricky Burkhead to the Burns-Belfry Museum on Friday afternoon, August 1, 2014. Accomplished singers Effie Burt and Damein Wash on keyboard joined Mr. Burkhead to present a historical review of African American music. The setting motivated the trio to perform selections representing centuries of black life and creativity.
Concert highlights included Ricky Burkhead's melodic steel drum solo of "Jamaica Farewell." Later the audience participated in a demonstration of "call and response" as practiced by enslaved generations of black Americans. Samplings of gospel, blues, and jazz sung by Ms. Burt and Mr. Wash thrilled the "Fringe" audience of 20 festival goers. Ms. Burt's rendition of a Billie Holiday classic was a standout.
Look for announcements of a repeat of this remarkable concert at the Burns-Belfry in 2015.