Burns-Belfry's Two-Stage Exhibit
The Burns-Belfry interpretive exhibit aims to preserve African American history and thereby create opportunities for education, engagement, and dialogue in service of the overall Burns-Belfry mission of building community in Oxford-Lafayette County, Mississippi.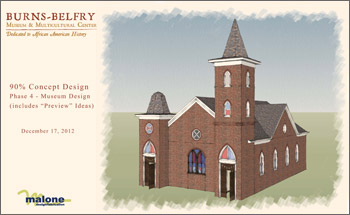 The Burns-Belfry Museum is not a typical history museum. Typical history museums display artifacts that are drawn from their "collections." In order to create these displays, they have dedicated space, usually arranged in galleries by subject matter or time period.
Space in the Burns-Belfry, however, is purposed to fill a dual function. It hosts meetings, receptions, and educational programs, while also featuring museum-quality exhibits. Instead of holding artifacts from the past, Burns-Belfry exhibits tell stories drawn from the past.
The Burns-Belfry Challenge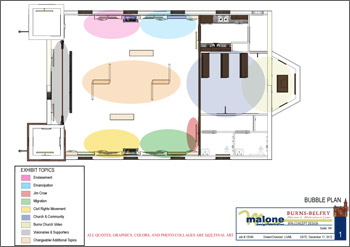 Designing exhibits for a dual-purpose building was the challenge presented to Malone Design/Fabrication located near Atlanta. They had previously designed and built the exhibit in Oxford's L.Q.C. Lamar House Museum, which was also a design challenge. At the Lamar House, restored to its 1870 origin, no exhibit panels could be affixed to the walls or the floors.
Just the opposite is the case at the Burns-Belfry. In order to maintain the building's open event space, Malone designed exhibit structures that hang on the walls or stand alongside them, which create a dramatic backdrop for events. Wall murals and standing panels tell stories organized by four major themes: Enslavement, Emancipation, Jim Crown, and Civil Rights. These comprise Stage 1 of the Burns-Belfry African American history exhibit, currently installed.
Stage 1 Exhibit
Graphics on the standing panels provide thematic overviews developed by University of Mississippi history faculty: Asst. Professor Anne Twitty in the history department and Bryan Cooper Owens, instructor in African American Studies. Images for the wall murals and standing panels were researched and selected by University of Mississippi faculty in the Art Department: Assoc. Professor Betty Crouther and Laura Antonow, adjunct asst. professor. Both text and image development were coordinated by Darlene Copp, project manager for the Burns-Belfry exhibits and programming.
Stage 2 Exhibit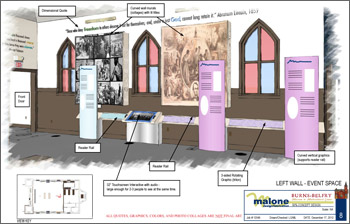 For Stage 2, history scholars are developing thematic narratives that will flesh out topics in the Stage 1 overviews. Added research will provide illustrations of African American life in Oxford/Lafayette County from its settlement through desegregation of the schools in 1970.
To carry Stage 2 stories, "reader rails" will be added along the walls between the existing standing panels. These will hold both graphic panels and touchscreen computer stations. The latter will offer visitors the opportunity to select subjects of interest to them to either read more or play audio/video clips.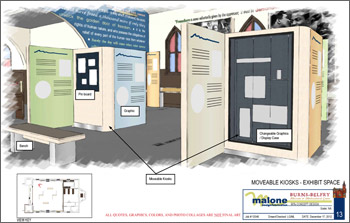 Additional graphic panels will hang on two kiosks in the center of the room. Each kiosk offers four exhibit panels, along with a center showcase to display artifacts, when available. To accommodate events, the kiosks will be folded and rolled out of the way along the building's front wall. Completion of Stage 2 is planned for summer or fall of 2014. Crucial to meeting that goal is raising the funds to build and install the additional exhibits.
Burns Church History
The completed Burns Church history exhibit spans Stages 1 and 2. Original documents helped resolve conflicting years for when the original church was built. Included in the exhibit is a 10-minute video that relates the building's history along with the heart-felt memories of several "old Burns" members.